Open City Architecture in Schools Primary Programme
This year we hosted a visit to Rooff's head office, the Granary and the Malthouse for Open City's Architecture in Schools Primary Programme. This is a creative and cross-curricular programme for primary school pupils. It aims to train teachers on how architecture can be used to teach a variety of core subjects including Art, Design and Maths whilst improving children's drawing, model-making, communication and problem-solving skills. The aim of the programme is to inspire the next generation of city-shapers and for students to understand how architecture informs the world around us. The Ice House Quarter was chosen as an exemplary example of architecture and we were lucky enough to show around local Dagenham School, Five Elms Primary.
The pupils were delighted to be shown around the quarter and were all impressed by the amazing architecture of the Granary and Malthouse. During the visit the students took part in various activities that explored architectural themes which included the scale and structure of the building, different materials used in the building as well as studying and understanding drawing plans, elevations and sections.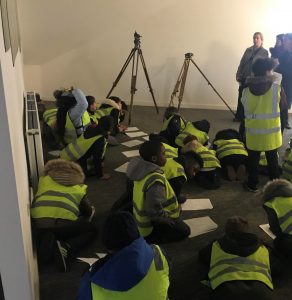 The Granary
Architect: Pollard Thomas Edward
Structural Engineer: Price & Myers
M&E Consultants: MESH