We hosted a ground breaking ceremony in February with the Mayor of Newham, Rokhsana Fiaz and Cllr. Shaban Mohammed Dowling, for two projects which Rooff have been awarded by the London Borough of Newham, as part of their Affordable Homes Programme.
The project at Bramall Close and Idmiston Road will deliver 23 homes and Malmesbury Terrace will provide 15 homes. Both projects are due to be completed summer 2022.
We are looking forward to working on these projects with Newham Council and Newground Architects, to help fulfil Mayor Fiaz's target of building 1,000 affordable homes in the borough.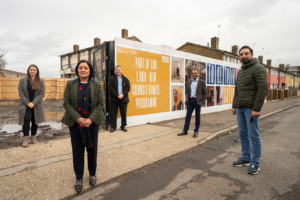 Photo Credit: Andrew Baker
Pictured in images: Claire Bullen (Rooff Business Development Manager), Mayor of Newham Rokhsana Fiaz , Carl Whelan (Rooff Contracts Manager), Gan Hirani (Rooff Operations Director) and Cllr. Shaban Mohammed Dowling