Rooff are delighted to announce that Steven Campbell a member of the Rooff Training Academy has recently graduated with a First Class Bachelor's Degree with Honours in Construction Management from the University of East London. Steven was also awarded a 2020 Commendation for Achievement Award for Best Management Trainee from the London Region Construction Training Group.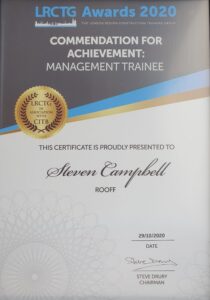 Local Barking & Dagenham resident Steven was originally recruited through Barking & Dagenham College, where he was working towards a full time Construction and Built Environment course. Steven was taken on and switched to a part time course as part of a Management Apprenticeship within the Rooff Academy. Successful completion of the degree comes at the end of a comprehensive 7 year training programme incorporating a BTEC Level 3 Diploma, BTEC Level 4 Higher National Certificate and of course nearly 7 years of on the job training and work experience.
A massive congratulations to Steven for all his hard work and we look forward to a long future career as part of the Rooff management team.