In most industries across the UK apprenticeships are a relatively new concept and it is becoming increasingly popular to take on apprentices. However, the construction industry have been delivering apprenticeships for decades, Rooff alone has trained over 450 apprentices and trainees across the last 50 years. We were reminded of this when we received a surprise email a few weeks ago from a man called Ray Stanton.
Ray carried out a carpentry apprenticeship way back in 1974 in Rooff's own joinery shop (then known as Passmore Joinery, part of the J & R Rooff Group). Ray recalls going to Barking College of Technology every Friday on his day release as part of his apprenticeship. His first year was part of a CITB course, where he did Carpentry, Bricklaying and Plumbing, and in his second year he completed an Advanced City and Guilds Carpentry course. Ray remembers working on two sites at the time, one was in Stratford where he worked on tower blocks replacing exterior panels, and the other was a new build estate in Stockwell, South London.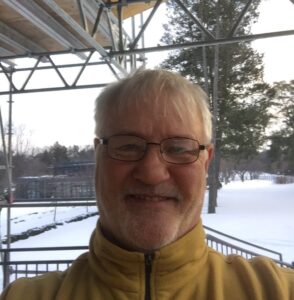 Ray now lives in Canada having emigrated there 30 years ago, where he continued to be a working carpenter. He has said that craft trade apprenticeships are not a common thing in Canada and people are shocked when they hear he completed an apprenticeship back in the UK in the 1970's.
Although a lot has changed at Rooff in the 48 years since Ray started his apprenticeship, one thing that hasn't changed is our commitment to training and staff development, because "Tomorrow's Talent needs to be Employed Today" (Steve Drury – Rooff's Development Director). Ray's story is an excellent example of the power of apprenticeships and how they can kick start a working career and provide a positive benefit throughout one's whole working life.