In February 2021 we hosted a ground breaking ceremony when construction started for 15 new homes at Malmesbury Terrace in Canning Town. We were lucky enough to be joined on site by the Mayor of Newham, Rokhsana Fiaz. The new homes are part of the Mayor's target of building 1,000 affordable homes in the borough. A year later we invited the Mayor back to site to see the progress and attend a Topping Out Ceremony, to mark reaching the highest point of the building. The event also celebrated the name of the new building, Jack Leslie Point.
Jack Leslie Point commemorates Jack Leslie, a Newham resident who was born in Canning Town in 1901 to a Jamaican father and English mother. Jack played football for Barking Town as a prolific striker before moving to Plymouth Argyle in 1921. He was called up to play for England in 1925. However, after finding out his ethnicity, the FA blocked his call up.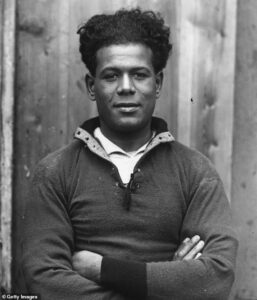 We were joined by family members of Jack, who along with the Mayor and Rooff site staff signed the final beam to be placed in this building. The names on the beam will forever be part of the fabric of the building. At the event the Mayor of Newham said "I hope we have done as best as we can in Jack's memory and that he will forever be immortalised in this building".
Top Photo Credit: andrewbakerphotographer.com